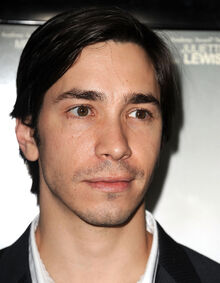 Justin Long (born June 2, 1978) is an American actor who provides the voice of Kevin Murphy on F Is for Family.
Notable Roles
Edit
Galaxy Quest: Brandon
Jeepers Creepers: Darry Jenner
Dodgeball: a True Underdog Story: Justin
Herbie Fully Loaded: Kevin
Alvin and the Chipmunks: Alvin
That 40's Show: Berardo Ardito, Eutalio Verga, Saffo Mello, Democrito Ingrassia
Walk Hard: the Dewey Cox Story: George Harrison
Zack and Miri Make a Porno: Brandon
He's Just Not That Into You: Alex
Drag Me to Hell: Clay Dalton
New Girl: Paul Genzlinger
F Is for Family: Kevin Murphy
Ad blocker interference detected!
Wikia is a free-to-use site that makes money from advertising. We have a modified experience for viewers using ad blockers

Wikia is not accessible if you've made further modifications. Remove the custom ad blocker rule(s) and the page will load as expected.