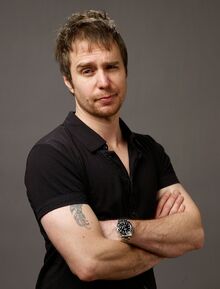 Sam Rockwell (born November 5, 1968) is an American actor known for his roles in various independent and mainstream films. He provides the voice of Vic.
Notable Starring Roles
Edit
The Hitchhiker's Guide to the Galaxy - Zaphod Beeblebrox
Confessions of a Dangerous Mind - Chuck Barris
Moon - Sam Bell
Conviction - Kenneth Waters
Iron Man 2 - Justin Hammer
F Is for Family - Vic
Ad blocker interference detected!
Wikia is a free-to-use site that makes money from advertising. We have a modified experience for viewers using ad blockers

Wikia is not accessible if you've made further modifications. Remove the custom ad blocker rule(s) and the page will load as expected.