"
What are you *FUCKERS* doin, SITTING AROUN!
GET BACK TO WORK!"
- Scoop Dunbarton.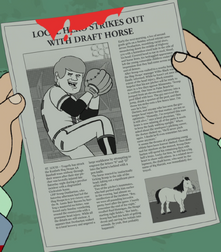 Scoop Dunbarton was a recurring character on F is for Family. He was voiced by John DiMaggio.
Character
Edit
Scoop was a Minor League Baseball player until he had to retire due to being kicked in the head by a horse (which crushed his skull and left him with a large depression on the side of his head.) He was the nephew of Roger Dunbarton, who brought him in as Frank's replacement after he was fired.
Before his injury, Scoop was despised for his reckless behavior, excessive drinking, and trying to resegregate baseball.
Scoop was vastly despised by all of the Airport employees because of the fact that he was very rude and condescending towards them. In addition, his uncontrollable anger, mood swings, and lack of reasonable thought, endangered other employees on the tarmac.
In the Season 2 finale, after being drugged and stuffed into a luggage bag by Frank and the airline employees, Scoop eventually regained consciousness and beat up the African-American terrorists. Though while he celebrated his victory, Scoop accidentally stepped on the suitcase with a bomb in it and was killed by the explosion, which blew his lower body right off. The laminated newspaper article describing his accident with the horse (named "Big Harold") flew off and slit the throat of his uncle, Mr. Dunbarton, killing him.
According to the newspaper article, Scoop had a "big heart", which was ironic considering his actual personality.
Also according to the newspaper, Scoop was left-handed (the beginning of the article labels him as an LHP (left-handed pitcher) and his photo reflects that).