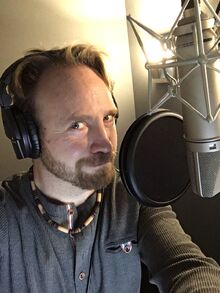 Trevor Devall (born November 10, 1972) is an actor who voices various characters on F Is for Family.
Notable Roles
Edit
Death Note - Shuichi Aizawa
F Is for Family - Bolo, Goomer, Red, Mr. Holtenwasser
Guardians of the Galaxy Animated Series - Rocket Raccoon
Johnny Test - Dukey
Lego Star Wars - Admiral Ackbar, Boba Fett, Emperor Palpatine, Jar Jar Binks, Jango Fett, additional voices
My Little Pony: Friendship is Magic - Prince Blueblood
Ad blocker interference detected!
Wikia is a free-to-use site that makes money from advertising. We have a modified experience for viewers using ad blockers

Wikia is not accessible if you've made further modifications. Remove the custom ad blocker rule(s) and the page will load as expected.